Liberal leaders met today in Brussels before the European Council, to discuss issues concerning COVID-19, economic recovery, migration and relations with Turkey and Russia.  MEP Ilhan Kyuchyuk participated as a co-chairman of ALDE party.
The topic of Covid crisis was discussed at the meeting. Leaders paid particular attention to the epidemic situation and the current situation with vaccines, as well as the recently adopted digital vaccination certificate. The participants in the meeting are adamant that coordination efforts will continue in response to the pandemic, as well as measures to help Member States deal with the crisis. Meanwhile reviewed the remaining obstacles related to the right to move freely throughout the EU.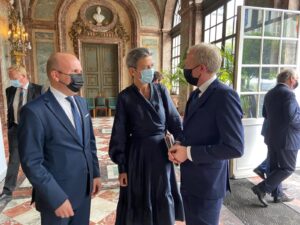 "We discussed various topics from foreign policy to economic recovery after COVID. The pandemic has shown us that we need to make bold and quick decisions. During the leadership meeting, we reviewed the implementation of the recovery and sustainability plan and the economic policy of the euro area. Most national governments presented their plans in April and May, with clear milestones and targets for access to recovery funding. The Commission has already approved several of them, and this is an essential part of the grant and loan process to help Member States cope with the economic and social consequences of the pandemic," said Ilhan Kyuchyuk.
The summit was attended by: French President Emmanuel Macron, European Council President Charles Michel, Renew Europe Group President Dacian Ciolos, the Vice President of the European Commission  Vera Jourova, Executive Vice President of the European Commission Margrethe Vestager, Prime Ministers – Mark Rutte, Andrej Babiš, Alexander De Croo, Kaya Kalas, Micheal Martin , EU Commissioners Didier Reynders, Janez Lenarčič and Kadri Simson and others.
Тази публикация е достъпна и на следните езици: Bulgarian